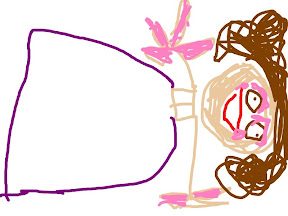 Hey y'all. You saw that one coming didn't you?
So I'm doing two firsts right now...blogging from my iPad and blogging from Texas. I'm in San Antonio doing a little house hunting while the Mr. holds down the fort with the little 'uns in Cincy.
I have to admit when I first got hereI was feeling a little depressed and already missing our friends and our home in Ohio. However things are starting to look up. Yessiree...they're looking up. I've signed a lease and I think I found the right place for our family for the next 3 years. As usual it's a good story...I can't wait to fill you in when I get back.
Hugs,
Migs
I have limited photos on here so I included a cute drawing Sparkle pants did on my iPad a few weeks ago. It's a self portrait of course and I know she'd want you to notice the eye shadow, lipstick, blush and fingernail polish. And sorry, but I can't seem to flip it right side up.
- Posted using BlogPress from my iPad